"I focus on selecting players who add energy, not players who take energy away"
We ring out the year 2016 with the Man of the Year (and last 70 years): Johan Cruyff. Now we will focus on what I hope will be the Football Man of the Year 2017 : our national team manager. The annual NY interview with the highest executive in professional Dutch football: Danny Blind (55).
Last week, the KNVB had their annual New Years gathering. And as per usual, there were speakers. This year Martijn Koning, the comedian, did his thing. And after a chaotic year, every single KNVB individual was ridiculed and the butt of his jokes: Hans van Breukelen, Bert van Oostveen, Dick Advocaat… They all were part of the show and this resulted in great moments of hilarity and belly laughs for the people present. One name was left out though: there were no cynical jokes about our national team manager, Danny Blind. Remarkable, because if this comedian would have been there at the end of 2015, surely the show would have Blind as a main theme.
Danny Blind: "It's funny indeed. My  parents told me that when (famous Dutch comedian) Wim Kan would leave out a politician's name in his comedy shows, these politicians would be disappointed. Because it means you were invisible, hahaha. I think I might just be happy with this for now."
Asked if Blind thinks this might be an indication he is getting it right and clearly there is not a lot to ridicule at the moment: "Yes, I do think people are starting to respond more positive to me and the staff… We had some difficult times at the KNVB and that took some pressure off of me, really… And I think the results and performances have been improving, which is key. But I also think I've demonstrated to have composure under pressure. I"m down to Earth and I think people appreciate that."
As you said: it feels the KNVB is working really hard to get the attention away from you….
Blind, laughing: "Well, there was a lot of material for "other stories" yes. And that is Hans van Breukelen's task isn't it? To keep the pressure away from the players and the coaching staff, hahaha. He did a good job!"
Was 2016 a year in which you could get your way across, more so than in 2015?
"For sure. And in particular the group dynamics. Much bettter and different than in 2015. We started this in November 2015, with the Wales game, when we missed out on the Euros. I changed the way we selected players. In short: we had a short four game run when I took over the reach the Euros. And I selected players on that basis: we needed to win four finals. So I put my chips on experience. I looked at experience and the level of the clubs they were at. I had to pick between young Tete of Ajax and experienced Van der Wiel of PSG, for instance. Tete would be making his debut. I didn't think it was responsible to pick a debutant, so I went for experience. Anyway, we now know that you can't rely on experienced players for the full 100%. They didn't come through, sadly. But there is no guarantee that the new kids would have… Essentially, I am now more focused on energy and personality. What do they bring to the squad. I focus on players who give the team a lift, and not so much need energy themselves. It's what you can give, not take. That is the selection policy in summary, but quality and fitness are key, a given, of course. That's where it starts."
So, whether players play all the games, playing minutes in other words, are less important?
,,Still important, of course. But not longer priority #1. Under Louis van Gaal and Van Marwijk that was key and was easier to hold up. But it's getting too hard. We are losing out. Check the clubs where Van Marwijk's team played in 2010 versus the clubs our players are at now. And not only are these not the top clubs anymore, the ones who are with the second tier clubs sometimes don't even play. It's all a bit thin. But that away game vs Wales, we won 2-3 and ever since we only lost to France, of which the WC qualification game was quite close and we had an unnecessary loss vs Greece in the friendly. But hey, the tough times are not over. We played Belgium and didn't create one single chance. Then again, neither did they, so that is also a positive."
As you said: the vibe in the group now is: no whinging and whining, otherwise: stay home!
"Yes and that came from the group. They have their own team talks too. And players like Strootman, Sneijder, Robben and Wijnaldum are the initiators of this mentality. Wijnaldum is a top example. Started his career as a creative midfielder but is currently one of the strong holders in Liverpool's midfield. Playing with constraint, with discipline. I have abused his qualities a bit this year and I told him this. I used the word abused on purpose, I had him playing full right back versus Belgium. And Wijnaldum responds with: "Trainer, I am here for the team and to reach the World Cup. I won't whine or complain, I'll play where you need me." And even if we don't play well, I always see great commitment."
Dick Advocaat has thrown Van der Wiel out of the Fener squad as he's dealing with too many peripheral activities. He was a starter in 2015 but never made it back in 2016…
"I will let you name the players. But if you see the recent developments with some players, the picture becomes clear, right?"
More on the team later. Let's discuss this Performance and Innovation Manager (PIM) role at the KNVB. Did you come to some resolution with Van Breukelen? You seemed to clash about this role?
"Yes, we clashed about that. Because my point was and is: you can't combine this PIM role with team manager (the role Hans Jorritsma has). I can't see that. The team manager role is a full time role. And I have a good staff I'm working with and they are my PIM. We have physiologist Luc van Agt. A top expert on anything related to fitness, physiology, intensity, etc. We have a team of video analysts, who measure everything that can be measured and we have our scouts. I also use the experts at club level. As you know, the Feyenoord and Ajax academy are top notch. We can learn from them. And all the clubs where our players are, feed us with useful stats."
So take Wijnaldum, who is now playing as a controlling midfielder for his club, you can use those Liverpool stats to utilise with Oranje?
"Exactly. And I do think Wijnaldum can play in this role for us, in the future. I get annoyed when people say "the football world is conservative". I think the football rules are conservative and Marco van Basten might be able to lossen that up. Ridiculously conservative. But in terms of data collection and analysis, it is really good. When we went to Brazil in 2014, all players visited the dentist. We did that in Holland. As they can see what kind of physical issues are lingering in your body via your teeth. What issues can we expect and what can we do to prevent it. Van Breukelen is now witnessing all this and that will affect his decision making."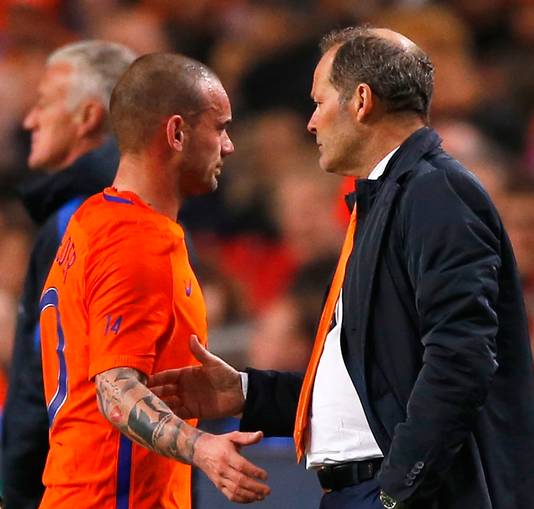 How is your relationship with Van Breukelen. You were coupled with him out of the blue: technical director and national team coach. Is the love there?
"Our working relation is good. We respect each other. That, I can say. And Hans was reasonable enough to admit that his assessment of combining the team manager with the PIM into one role will not work. And that PIM job was emphasized so much, that this role became too big in the media. The saviour of Dutch football. But it's not, it's just one cog in the machine. And it's a role behind the screens, in the background. I think they should not have hyped it up so much. It's important to think strategically about these things. It got blown out of proportion. And Peter Blange (ex volleyball olympic champion, ex volley ball coach and sports expert) will now focus on collating information about youth development and intensity training. And he'll focus on the Eredivisie. Great. And he'll need to go via the clubs. If we want to improve our football, the clubs are the key. But listen, when you talk to Blange, you talk to and listen to a pro. Someone who knows what top sports is about. A good guy. And he knows his contribution will not have a 40% increase in performance, or even a 10% increase. But if he can give us 3% improvement I will be cheering him on. Everything counts. I think we need to change the circumstances in which we play, through new rules. Like Wim Jansen said: organise a competition with 4 Ajax-Feyenoord games. I am all for that! And stop with artificial pitches. It changes the sport and not in a good way. Invest in better coaching classes and have referees allow more on the pitch."
What did you think of Guardado during Ajax-PSV. Was he taking it too far? Or was it needed?
"I loved it. He needs to do that. But in Holland, we are all confused for days after that. I don't get that."
Blind looks out and watches the golf player on the Borchland golf course. Four years ago, Blind was interviewed here after the Euro debacle of 2012. The main topic was: who is Holland's best striker: Van Persie or Huntelaar? Both players have been surpassed and this applies to other 30+ players as well. Blind is sort of in charge of selecting a new aquad after a period of 10 years of familiar faces. A generation that gave Oranje it's face for decade or more.
So how do you say goodbye to those kind of players? Can you do it without a hassle, or frustration?
"Well, it's part of my job alright. I have been there myself as a player. And players like Cocu, De Boer bros, Van Bronckhorst… a top generation and they took the bow themselves. Cocu was still world class at 34. That is quite handy for a coach. I'm not making decisions based on "this or that player should not play for Oranje anymore". It's more up to them to demonstrate their quality, so I can select them. They select themselves."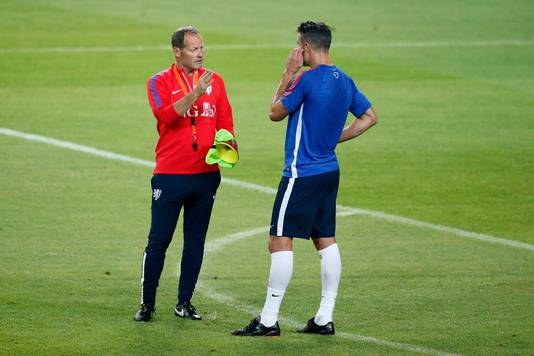 So you need players who give energy to the group instead of taking energy?
"Yes and in the broadest sense of the word. How do you perform off the pitch? Are you self centered? Closed off? Or do you work with others? Do you want to be part of the group process. What I don't do though, is work towards a squad for the World Cup. That is too early now. We need to get there first, so I pick the players who will be able to bring us there. Forging a winning team for the World Cup will need to happen in the run up to the tournament. We need to get there first."
Let's zoom in on Sneijder. Your second skipper. Was involved in four goals for Gala before Xmas. In Oranje, you can see it is not getting better with him. How do you see him?
"Wesley is a leader in the group. He is the role model. He can tell people exactly what is needed to make it to the top. And he talks to the youngsters about this. About his sacrifices, about what it means to score and be great on the World Cup stage. He's important to us."
But you seem to question his best position in the team?
"No not really. I can use him on different spots and I have made those choices already. But I will definitely still use him as a real #10, don't worry. He did well on the left vs Sweden too. But Sneijder, he was dominant for whole games when he was younger, now he will be less dominant, but his set pieces alone are key. Even if he doesn't play well, his kicking is amazing. And he does this with Oranje too. A player like Sneijder used to dominate a whole game, but now he can still be decisive in a couple of moments.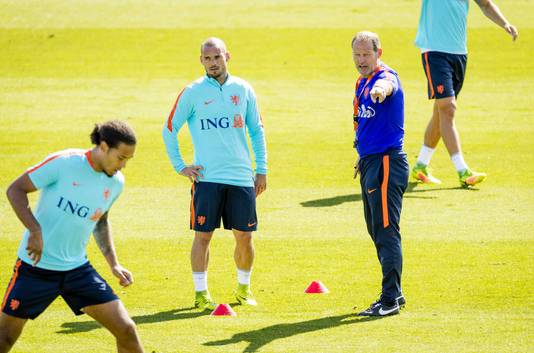 "I think that is true. I can see this development. Wesley is streetwise and shrewd, he would make statements that will help build his image, I'm sure. But, I know Wes from when he was 14 years old. And whatever you can say about him, he is genuine and pure in his commitment and desire. I always talk to him before he comes in for internationals. He's a co-skipper and I talk the week through with my skippers. And he has a strong opinion about things and he sees things really well. He demonstrates leadership and has a lot of respect from all the players. Arjen as well. It's clear, that both are the key leaders in the squad."
But surely, you will not be the coach to tell Sneijder that you will not allow him to get his record international games…
"That's not up to me. It's up to him. He got a tough lesson from Van Gaal back in 2013. Louis dropped him in a harsh way: stay fit and play to your strength. His strengths are playing with venom, shoot with venom, accelerate the game and find the through pass. I know Wes will make sure he will demonstrate enough of his specific qualities to reach his record. His added value can all be shown in mere minutes right?
What did you think of Robin van Persie's interview (posted here recently too) in the AD?
"I read it of course and I have no issues whatsoever with his view on things, if you mean that."
Do you think he is right, that you needed to call him more often last year?
"I dont actually. Listen, he was tremendous for Oranje and Dutch football. And this is why I called him before Kazachstan away and explained in detail why I wouldn't select him. In a personal conversation. I called him again for the Czech game, three days later. That second time wasn't needed I guess, but I felt his stature deserved it. And after we failed to qualify, I called him again and explained my ideas. For me, to call him again after that, should only happen if my message would be different. If I would make a change and needed to explain this to him."
Because?
"I don't want to raise false expectations. And to be clear: I had no intention to change my policy and plans. Vincent Janssen was doing very well. And for me, Robin and Klaas-Jan are no substitute strikers for me. I know they have difficulty with that role. And listen, we follow Robin and all others every week. He had a good tun, but then he got injured again. And against Feyenoord for the Europa League, he didn't impress. I didn't see any threat from him. As a striker, you need to be dominant."
"Why not? He hasn't disappointed against Belgium. He had to go off with an injury but he confirmed the form he displayed with Fener. He has energy, is powerful and can be decisive. And he anticipates well on space becoming available. With Oranje, we are not that strong anymore, we don't dominate games structurally in and around the box of the opponent. We are now focusing on the turn around and use the space available to us. Lens has the qualities to play in that center role. He played there in Oranje for Van Gaal as well."
What developments do you see or expect for 2017?
"I can see Van Dijk, Bruma and De Vrij developing more. Three central defenders with big clubs in big competitions. And at an age where they can still grow. Wijnaldum is also in that group of players between 24-28 years old and he's not doing too badly at Liverpool. Strootman is fit and doing well. Quincy Promes has room to grow too."
Are you concerned for players like Janssen, Daley Blind and Memphis?
"Janssen does need to play and get minutes in the coming months, but I'm less concerned about him. He fits our game plan really well and I think he'll be fine. Blind is currently active in four competitions and even if he doesn't play all games, he still plays as a starter once a week. He has 70% of the Man United games still and this means he's part of the Man United core group. I don't think Daley will leave Manchester United. Memphis is not part of this core group and I think he may have to make a move this winter. Everton and Koeman? It would be a good option, as Koeman knows him well, but Everton has other options for the wings too. And if these guys step up, it might still be hard for Memphis. It's not a given he will start playing regularly in that situation."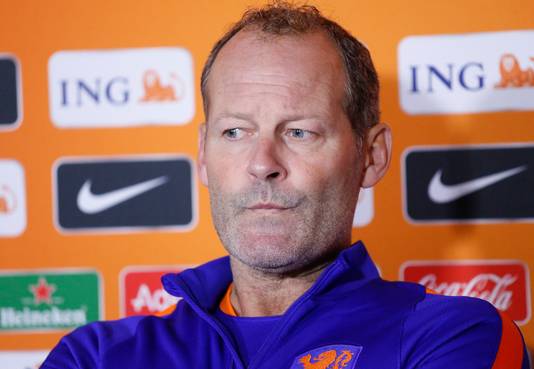 So why will we reach the World Cup?
"We can still win the group. And we won't give up without a fight. And if not winning the group, we should finish second because we are better than Sweden. Simple. Sweden without Zlatan is finding their feet though and they're improving. They did well versus France. My biggest disappointment of 2016 is not winning in Sweden. We should have and should have had three points more than them, with a better goal difference. We also have a good core group now, with Bruma, Van Dijk, Blind, Strootman, Wijnaldum, Klaassen, Promes, Janssen… And they need to make some steps. I do hope talents like Berghuis, Karsdorp, Vilhena, Ramselaar, Hendrix, Bazoer and even Van Ginkel will make some headway. So, add Robben and Sneijder and potentially other older players – like Vlaar or Van Persie – and we should have a good enough squad to reach the World Cup and make a difference there. We might not have a whole lot of world class players, but we can still forge a world class team."